Welcome to Aireborough Family Practice
We pride ourselves in offering our patients all care under one roof.
We will not send you elsewhere to see a Doctor for a routine appointment.
We open from 08:00am with bookable appointments from 08:10am every weekday morning.
All children who are ill and under the age of 10 will be seen within the same day and where possible within 2 hours.
We hope you will find enhanced convenience added to first class healthcare. Find out when we are open and how to see a member of the team. We've made life a little easier with practice updates, news on the latest health issues and even access to repeat medication all at your fingertips.
Your Good Health
Access to a wide range of healthcare services is a key element of a good local practice. We don't just want to see you when you're ill we want to make sure you stay healthy too. Check out how we can cover both bases with our clinics and services.
Best Practice
Our professional team of doctors and nurses will ensure you receive the best attention at all times whether you're attending a specialist clinic or a routine appointment. If you're new to the area registration is easy and comes with the comfort of discretion and confidentiality assured.
---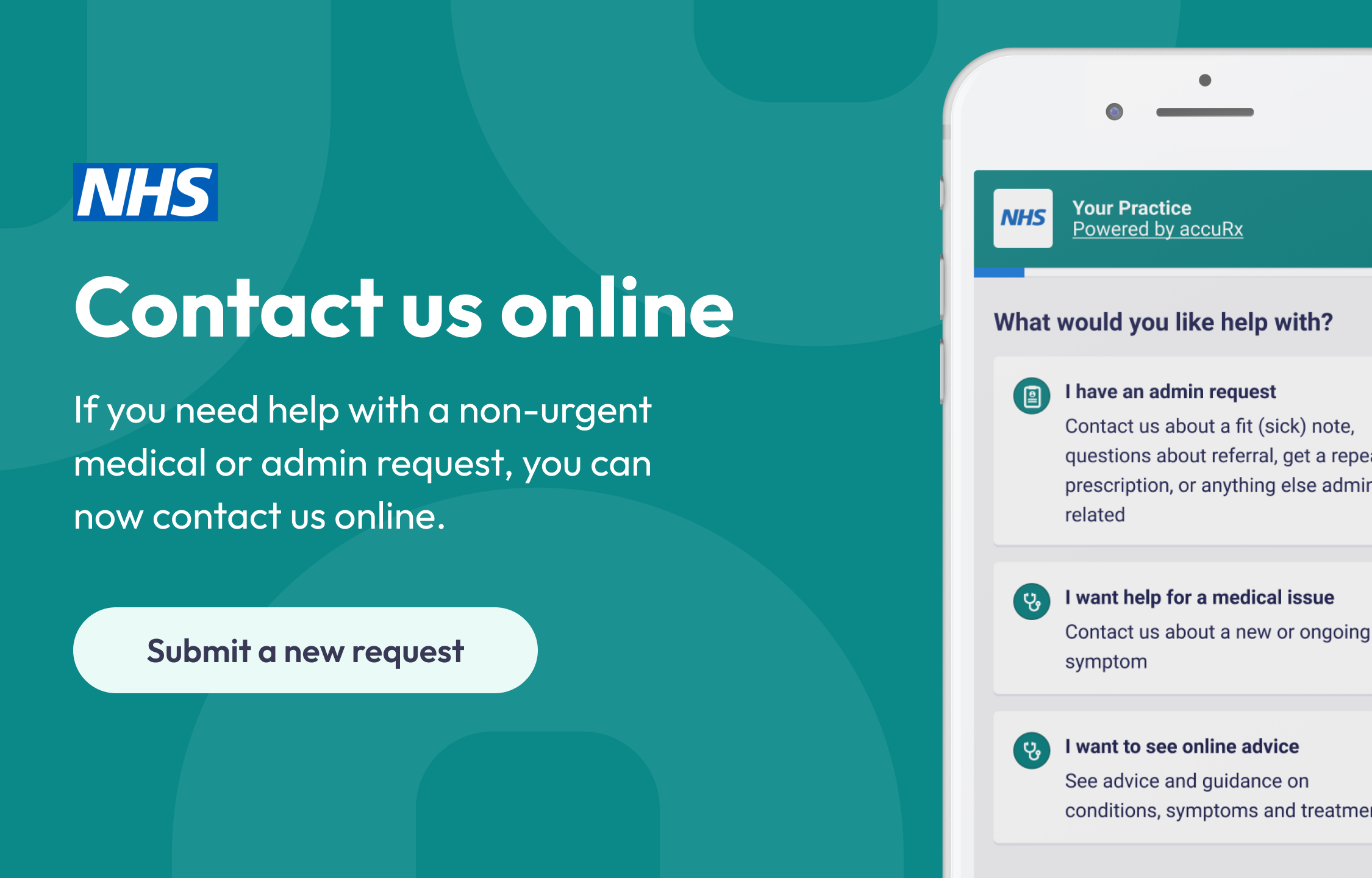 ---
Prescriptions
Our phone lines are currently very busy and our Receptionists are unable to deal with prescription requests over the phone.
Taking prescription requests over the phone greatly hinders our patients reaching the Reception team for issues that need to be dealt with over the phone, such as booking appointments.
We have many ways that patients are able to order prescriptions:
Email us on

This email address is being protected from spambots. You need JavaScript enabled to view it.

Fill in a prescription request form in Reception
Through SystmOnline - please visit Reception for your log in details
The NHS app
Post your request to us
---

---
Facebook Page
We now have a practice Facebook page, this can be viewed here. This is a fantastic way to get information out to some of our patients so please head over and give us a like!
Patients are unable to contact the Practice through the Facebook page, or respond to any of the posts. Please continue to use your normal methods of contact.
---
Prostate Cancer Screening
Did you know you can complete a Prostate Cancer screening check online? Click here to check your risk on the Prostate Cancer UK website.
Prostate Cancer is the most common cancer found in men in the UK. More information can be found here on the Cancer Research UK website.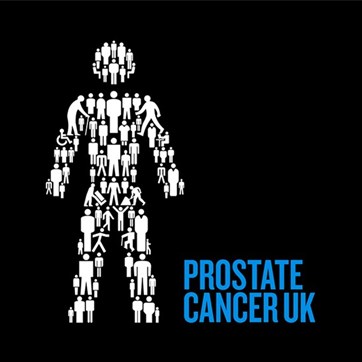 ---
Proud to be a Safe Surgery
Everyone living in the UK is entitled to register and consult with a GP. It means we can prevent and treat illness early and create a healthier society for everyone. Aireborough Family Practice is proud to be a Safe Surgery.
We recognise the barriers to healthcare access exist, particularly for migrants in vulnerable circumstances, and believe that small changes in practice can make a difference, ensuring that lack of ID or proof of address, immigration status or language are not barriers to patient registration. We are willing to lead by example and work to ensure that nobody in our community is excluded.
For more information on this Health Inclusion Initiative please visit https://www.doctorsoftheworld.org.uk/safesurgeries/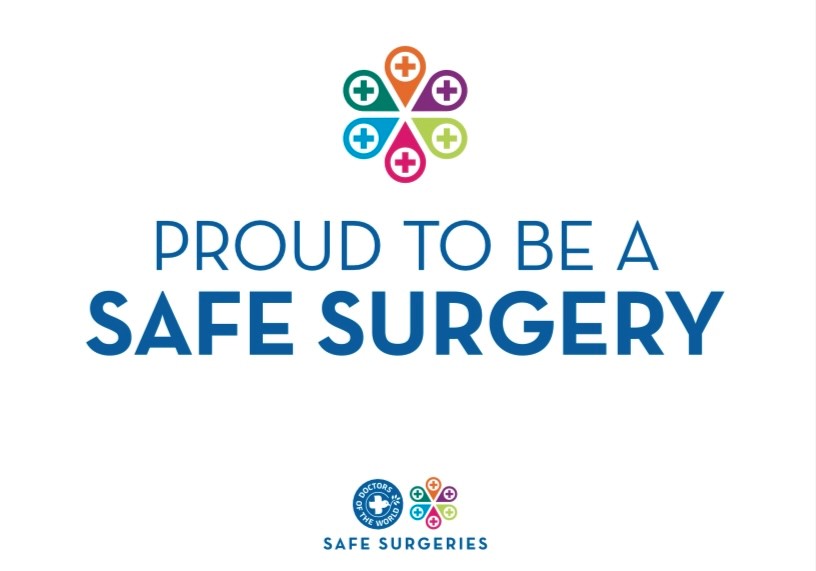 ---
Community Pharmacy Consultation Service
GP CPCS provides a mechanism for patients to be referred by general practice to community pharmacy for minor illnesses. Using this new service can help alleviate pressure on GP appointments by harnessing the skills and knowledge of community pharmacists to treat a range of minor illnesses and allowing GPs to focus on more complex patients. The service gives a patient a same-day appointment in a community pharmacy, either face to face or remotely.
Please note, our Reception team may triage your call and make a digital referral to a convenient pharmacy where you will receive relevant treatment and advice on the same day.
---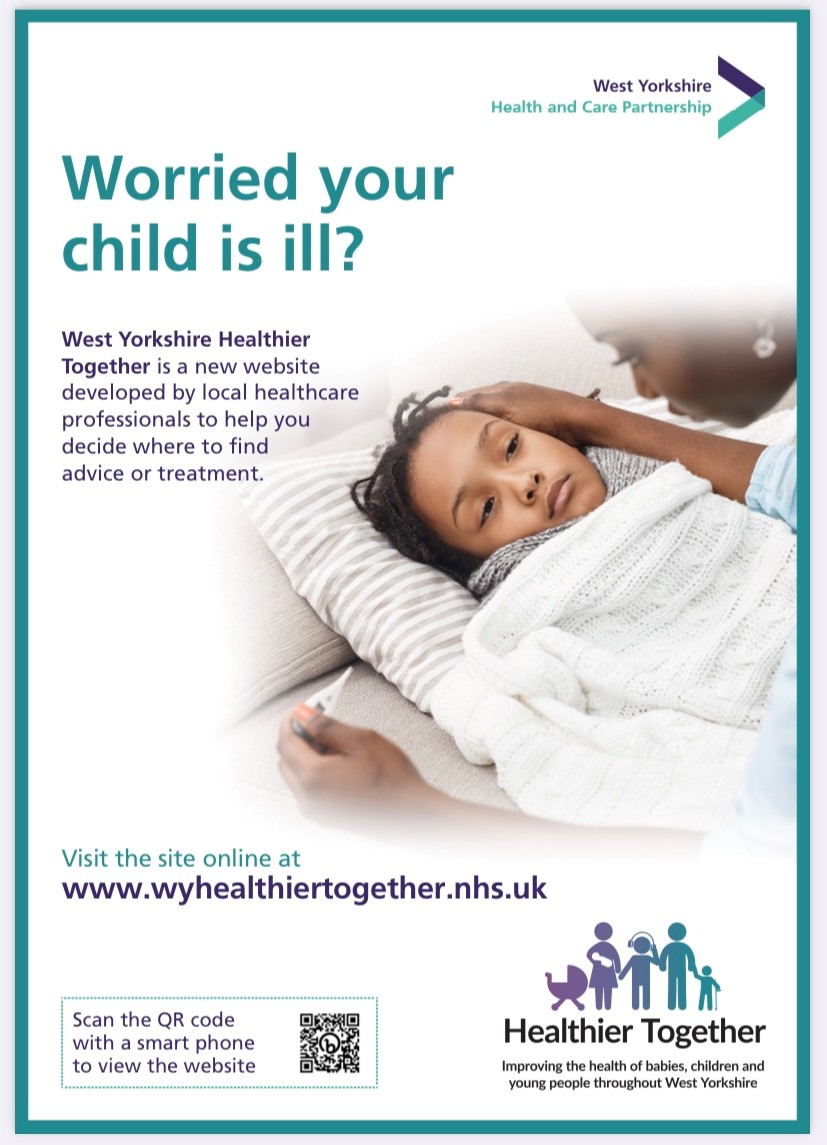 Healthier Together
A brand new website developed by local Paediatricians, GP's and clinicians to give you accurate, consistent and trustworthy advice and guidance.
Ideal for parents, carers, young people and professionals, Healthier Together aims to help you keep your children safe and healthy.
Click here to visit the website.
Coronavirus
IMPORTANT INFORMATION - Coronavirus
It is very important that if you think you may have Coronavirus or are showing any of the following symptoms that you and anyone else you live with stay at home:
high temperature
new, continuous cough
a loss of, or change to, your sense of smell or taste
Please refer to the online 111 service for advice and testing:
DO NOT ATTEND A GP PRACTICE, HOSPITAL OR OTHER AREAS WHERE MEMBERS OF THE PUBLIC ARE.
For the safety of our patients and staff the practice will not offer online booking of GP appointments until the Coronavirus situation has improved.
Thank you for your understanding and cooperation.
Long COVID
Long-COVID is a term commonly used to describe:
Ongoing symptomatic COVID-19 from 4 to 12 weeks
Post COVID-19 syndrome; signs or symptoms that develop during or after COVID-19 and continue for more than 12 weeks and are not explained by an alternative diagnosis.
Click here to follow the link for more information regarding your COVID recovery.
---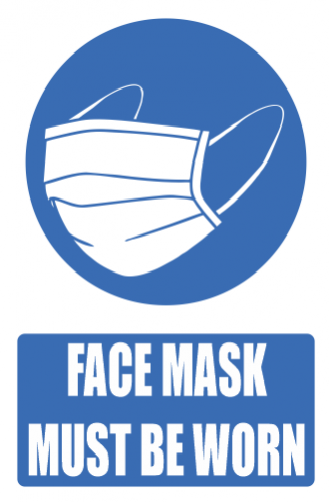 Face masks must still be worn by all patient's coming in to the Surgery. We have many vulnerable patients attending appointments, and like NHS Hospitals it is still mandatory to wear a face mask inside our buildings.
Please remember to bring a face mask with you to your appointment.
COVID-19 Vaccination Programme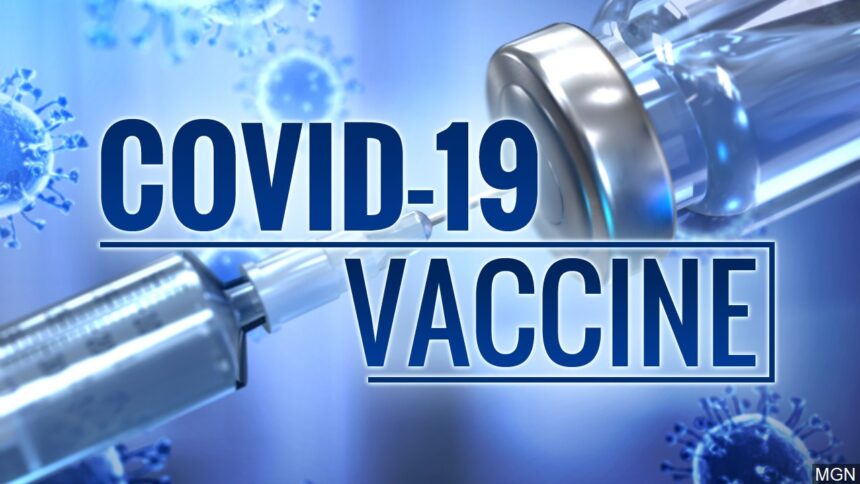 We are now receiving vaccine stocks again. We receive stock of both the Moderna and Pfizer vaccinations.
It is possible to have both your Covid-19 booster vaccination at the same time as your flu vaccination, please let Reception know when you make your appointment so they can book you in the right slot.
Please contact the National Booking Service to make your appointment at a Walk-in-Centre, or contact NHS-119 for more information. Help to book your appointment is also available on the NHS website
We have received some fantastic feedback from patients and relatives over how the clinics have run and the work done by our staff. This is lovely to hear and we welcome all feedback.
Click here for the consent form, this must be completed and brought to your appointment.
Click here for an information booklet about the vaccination.
---
New guidance has been issued for the use of the Oxford AstraZeneca Covid-19 vaccine.
This follows further reviews by the independent regulator, the MHRA, and the Commission for Human Medicines, of a very small number of people in the UK who have developed a rare blood-clotting condition since having the Oxford AstraZeneca Covid-19 vaccine.
The MHRA and Joint Committee for Vaccinations and Immunisations have emphasised that the risk of this condition is extremely small and that the benefits of the vaccine outweigh the risks for the vast majority of people. They have recommended that:
Everyone who has had the AstraZeneca vaccine should still have a second dose of the AstraZeneca vaccine, irrespective of age, unless they suffered any serious side effects after their first vaccination.
People aged 30 and over or who have a health condition that puts them at higher risk of severe Covid-19 disease should still be offered the Oxford AstraZeneca vaccine. The benefits in protecting them against the serious consequences of COVID-19 outweigh any risk of this rare condition.
People aged 18-29 who do not have a health condition that puts them at higher risk of severe Covid-19 disease will be offered an alternative Covid-19 vaccine where available. (This has been recommended as a precaution as people under 30 are at less risk from Covid-19 and not because they are considered to be at particular risk of developing the rare blood clot.)
People under 30 can still choose to have the Oxford AstraZeneca vaccine if this will mean they can be protected more quickly and they have been made aware of the guidance.
Click here to see the leaflet that has been produced by Public Health England and the NHS to answer any questions you may have.
Coronavirus Advice
We politely request you DO NOT COME TO THE SURGERY if you are self-isolating due to coronavirus, awaiting a coronavirus test result or have symptoms of coronavirus, even if you already have an appointment, unless you have specifically been told to do so. This includes using the intercom at the front door. You are putting other patients and staff at risk. Government advice is to stay at home.
Quick links:
Using the NHS and other health services during the pandemic
NHS 111 online - use this if you think you may have coronavirus but are unsure what to do
Get an isolation note if you or a family member are isolating due to coronavirus
If you think you may be eligible for TESTING click here - you do not need to contact us
The NHS Test and Trace Service official phone number is 0300 013 5000 and there is more information on their website https://www.gov.uk/guidance/nhs-test-and-trace-how-it-works.
You may be contacted by phone, text or email.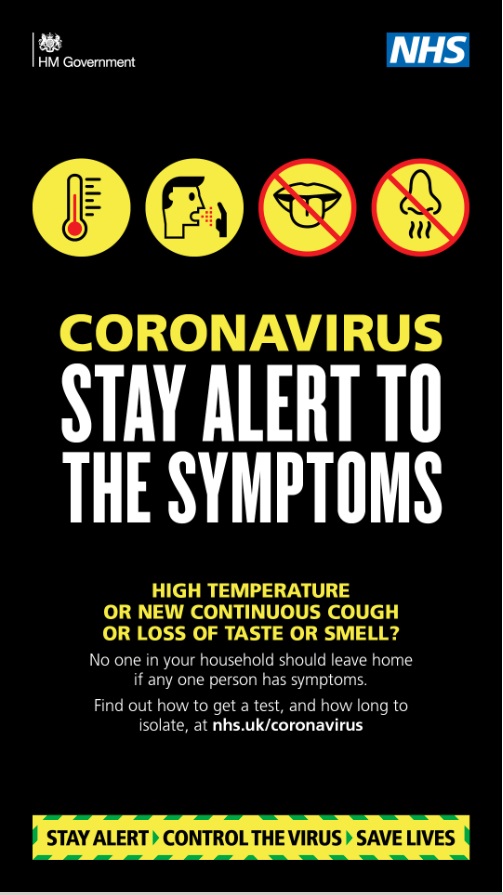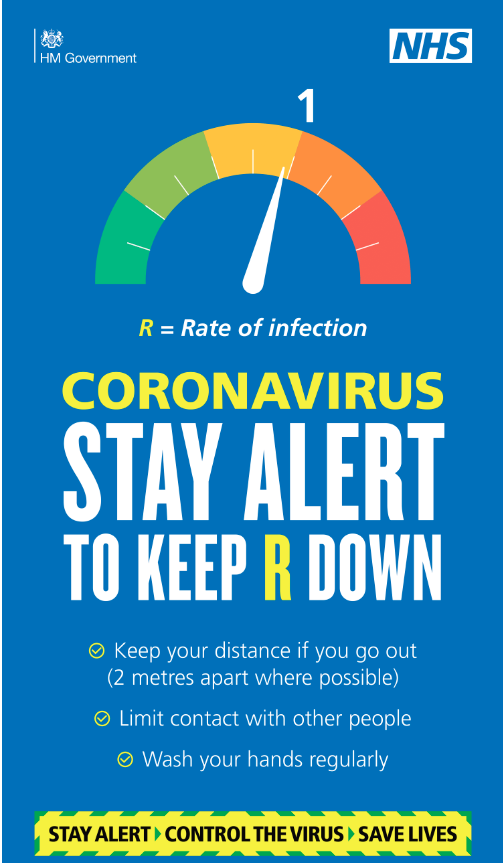 Accurx
Instead of ringing us you can now contact us via Accurx using your PC, Tablet or Smartphone.
This system replaces eReception.
If you need to order your prescription or have a medical question you need answering click the Accurx link below:
You can contact us about a medical, administrative or prescription issue by clicking HERE.
This short online form is the quickest and simplest way for the majority of our patients to access our clinical team for assistance. Our practice phone lines remain open for anyone with accessibility needs who might find difficulty completing this form.
Please do not use this online form for urgent or emergency requests. The submitted forms will only be read during office hours. The forms will not be read on the weekends (Saturdays and Sundays) or on bank holidays. They will not be read Monday-Friday between the hours of 1800 - 0900. Please contact 111 during out of hours or 999 if this is an emergency.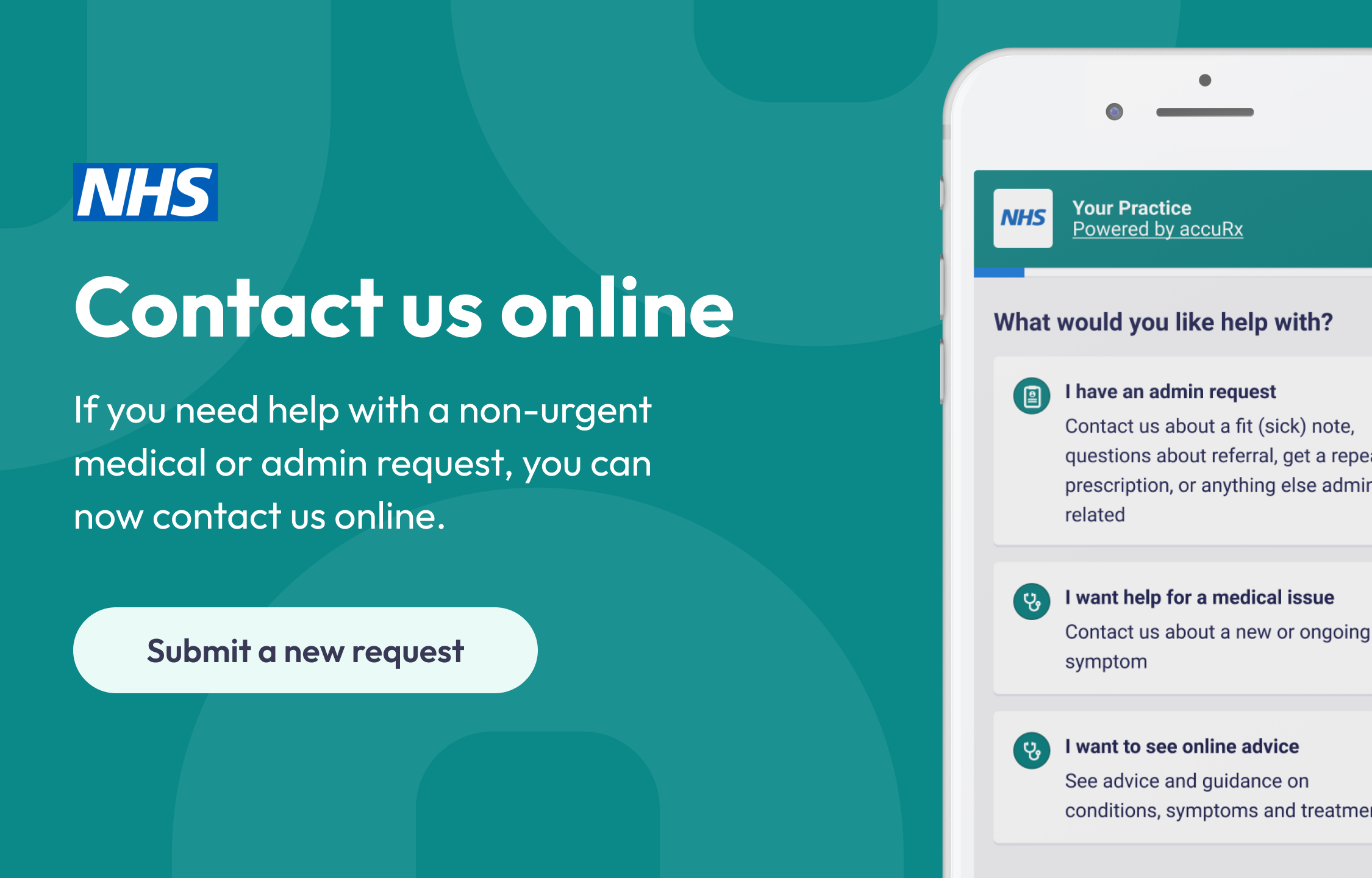 Extended Access to Primary Care
MORE APPOINTMENTS AVAILABLE NOW!
There are now extra routine appointments available, making it easier for you to get an appointment at a time to suit you.
Virtual Pharmacist Appointments - This is a telephone appointment for patients who need to speak to a pharmacist regarding a minor illness or a medication issue but don't necessarily need to see a GP. The pharmacists are able to prescribe and organise prescriptions electronically. Please speak to the reception team for further information on how to book an appointment.
Virtual Musculoskeletal (MSK) Appointments -This is a telephone appointment for patients who need to speak to an advanced physiotherapist regarding muscle or joint problems. We are able to offer a range of appointment times Monday - Sunday. The practitioner will offer advice etc and where appropriate arrange a follow-up appointment which may be face to face. Please speak to the reception team for further information on how to book an appointment.
Virtual Mental Health Support Service (Healthy Minds) - This is a telephone appointment for patients aged 18 and over who would like help with emotional wellbeing. It will provide a 20minute telephone consultation with Healthy Minds Practitioners who will be able to offer support for patients experiencing low mood, stress or anxiety, exploring and developing coping strategies, offer signposting and recommend other support services. Please speak to the Reception team for further information on how to book an appointment.
Extended Access Appointments - These are routine pre-bookable appointments available on Saturdays and Sundays between 9-12pm.
Saturday - Aireborough Family Practice, Silver Lane Surgery, Suffolk Court, Yeadon, Leeds, LS19 7JN
Sunday - Rutland Lodge Medical Practice, Scott Hall Road, Leeds, LS7 3DR.
This increased availability is an extension of services offered by your practice and is provided by a range of local clinicians including GPs, nurses and health care assistants.
Please note, this is not a walk-in service – you still need to make an appointment and these can be booked via your own GP practice or by calling the extended access team on Saturdays or Sundays morning between 9am and 12pm on 0113 221 3540.
EXTENDED ACCESS APPOINTMENTS ARE FOR ROUTINE ISSUES - NOT FOR URGENT CARE.
If your practice is closed and you are unwell please call NHS 111.
Collaborative Care & Support Planning (previously called Year of Care)
We, at Aireborough Family Practice, are constantly looking to improve care for our patients. We feel it is important for patients to feel more involved with their own health especially for patients with long term conditions. These are health problems inc. diabetes, COPD & heart disease, which, once developed, are usually with us for life. To enable patients to feel empowered in improving their health we are offering a new style of appointment. We call this Collaborative Care & Support Planning (previously known as Year of Care).
Patients who may have one or more long term conditions are offered an appointment called 'Data Gathering' with our clinical team who will obtain their height, weight, blood pressure, blood tests and other basic information. The results of the tests will be made available can be reviewed on-line or posted out to give the patient time to consider if and how they can make improvements before their follow up appointment with a nurse. This appointment is called 'Care Planning'. The nurse will discuss the results and will assist in goal setting and how to achieve the results you want along with any support if required.
If you feel you would like to benefit from CCSP, please make an appointment with the practice nurse.
Sign-up for Online Services
The Practice is always looking for ways to simplify your engagement with us. We encourage you to register for our Online Services which will enable you to book and cancel appointments, order repeat prescriptions and handle additional tasks without having to call us or wait in a queue. The NHS App will be launched in 2019 and make this even easier.
We would also ask you to provide us with up-to-date mobile phone numbers and email addresses, so that you can receive free text messages regarding your appointments, medical reviews and vaccinations, and changes to our services.